First startup conference on the Rhine!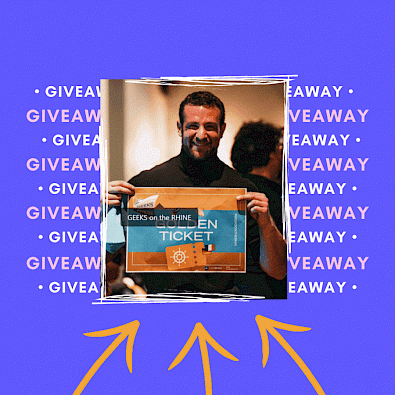 "Geeks on the Rhine" the startup conference on a ship will take place on 31/03 - 01/04/2023
180 #entrepreneurs, #startups and supporters from all around France, Germany and Switzerland.
 2 days - 160 kilometers - 30 speakers
Get your ticket now for the conference: Tech conference on a cruise boat (webflow.io)
Find more information below.

EVENING EVENT WITH JOHANNES KLIESCH
Friday, 31/03/2023 at 7 p-m. we tickets for 30 persons to join us.
Keynote by Johannes Kliesch, founder of SNOX "How the startup will conquer the French market"
Drinks and food included
Party, DJ and networking with 180 entrepreneurs, investors, business angels and startup supporter 
WIN A TICKET!
We have a gift for #founders from Freiburg: 1 free golden #ticket for the first startup #conference on the Rhine.
 
Who wants it?  Please share our startinsland LinkedIn post and leave a comment. We will contact you 
 
 70% of the tickets are sold and we have more than 20 interesting #speakers on board!
 
For example, Johannes Kliesch, founder of SNOCKS will tell us how the company will conquer the French market.
➡ Watch our program from inspiring #founder #stories to #market development or #VC panels.
 
Any further questions?
 
▪️ Yes, it happens on the cruise boat! Navigating from Strasbourg to Freiburg/Breisach and back to Strasbourg on the next day. Sleeping also on the boat in one of 90 comfortable cabins (2 people in one room).
▪️ French-German crew for the French-German-Swiss public (because EU ❤️). English is the main language of the conference.
▪️ All inclusive: we sleep, learn, eat and sing karaoke on the same boat.

Buy your ticket: Tech conference on a cruise boat (webflow.io)

It will be fun!
 
We are happy to see you!

Organizers:
Alsace Digitale, Black Forest Innovation GmbH, Foundersnet, Startinsland

Partners:
Basel Area Business & Innovation, SEMIA, IHK Südlicher Oberrhein, BadenCampus

Sponsors:
La French Tech, Ernst & Young, AOK Baden-Württemberg, schrempp edv GmbH