Pan-European biotech – From bench to business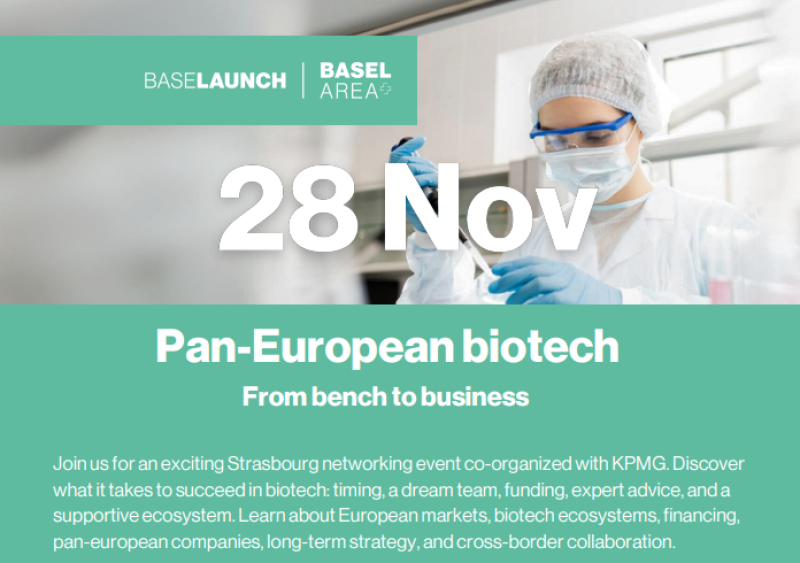 ave you ever wondered what it takes to make a biotech venture a success? Certainly, it is a combination of perfect timing, a dream team, funding, expert advice and a supportive ecosystem. Academic research, investors, incubators, pharma companies and biotech startups should work together like a finely tuned orchestra to discover, develop and commercialize novel medicines. Join us for this event to hear our insights on markets, biotech ecosystems and financing in Europe, the creation of Pan-European companies, setting up the long-term strategy early and working across borders.
Agenda
17:30-17:40 Baselaunch welcome & introduction Martyna Wroblewska
17:40-17:50 Quest for Health :A startup incubator in the heart of Europe
- Guillaume Vetter-Genoud PhD, MBA
17:50-18:20 KPMG overview – European markets and Financing
- Peter Mozerov, PhD
- Stephane Devin
18:20-18:50 From virology to treatment of fibrosis and cancer-the journey to create Alentis Therapeutics, a clinical stage biotech
- Prof.Thomas Baumert, MD
18:50-19:10 Q&A
19:10-20:30 Networking Apéro
Join us for this exciting networking event in Strasbourg, co-organized with KPMG.
This event is empowered by Innosuisse.