Key success factors for an Impact/Sustainability entrepreneur in the tri-national Basel ecosystem
Looking to know how to pursue & manage your journey as an impactful/sustainable entrepreneur/startup?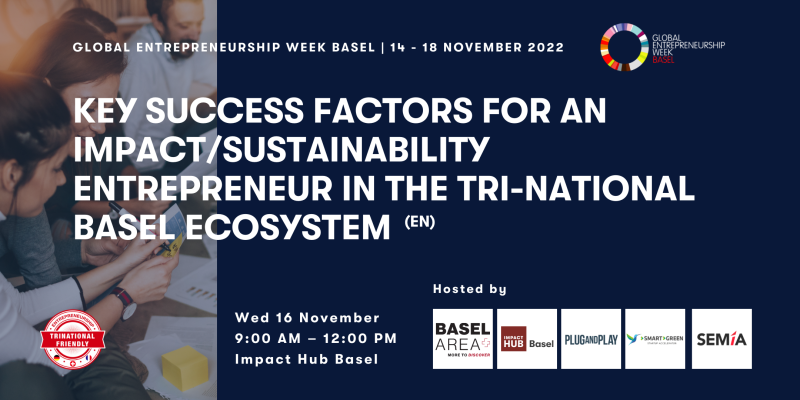 With the aim of celebrating the Global Entrepreneurship Week Basel, this event brings together sustainability and impact entrepreneurs in the growing trinational Basel ecosystem. The key elements for a startup to be successful will be portrayed through 3 main interactive workshop topics:
How to be impactful, where LEVO will walk us through sustainability and impact measurement; How to build a successful team, in which Alberto Ribeiro will discuss the staffing requirements for a successful startup; and How to identify the right investment, where Tommaso Maschera from Plug and Play ventures team will share tips on which kind of investment to seek and when. Such insightful sessions will be followed by a networking session that will allow participants to exchange their perspectives, insights and experiences with additional experts in the industry.
Hosted by Basel Area Business & Innovation, Impact Hub Basel, Plug and Play Basel, Smart Green Accelerator, SEMIA